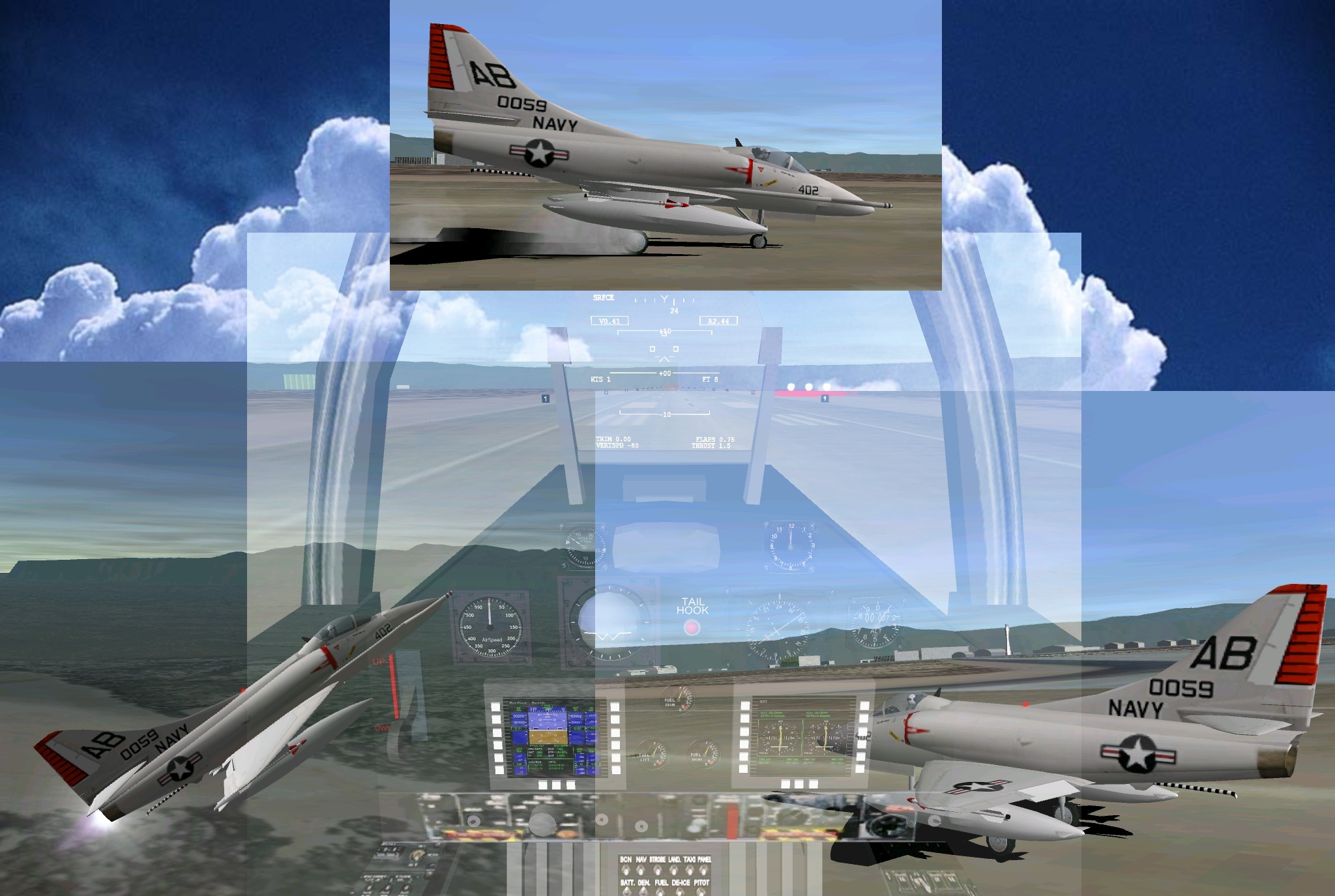 Take off in the updated A4E Skyhawk Version2
Nice video:
http://www.youtube.com/v/iTaQb3A17tk&hl=en_US&feature=player_embedded&version=3"></param><param
Press E to start/stop engine.
Press F for full flaps,D to deploy 10 deg.,S to stow 10 deg.
Press G for Gear.
Press 9 to lower Hook.
Press < or > or <> for wheelbrakes. Left, Right, or Both. (Smoke if sufficient retardation)
Press CTRL and + on the numpad for Thrust.(Afterburner operates at max. thrust).
Press A for height autopilot.
Use Insert and Delete to set Trim (Autopilot off).
Press K for Cockpit Lights and Strobes at Night..
Press 8 to Refuel when stopped...
Press 0 to Launch Sidewinders..
Press J to dump droptanks (be kind where -- they explode on contact)
Press F8 for VC when in cockpit mode.Use mouse to look aound VC while holding the right mouse button.
A Fuel Transfer Interface is required to decant fuel from droptanks to main.
(recommend ReFuel MFD
http://www.orbithangar.com/searchid.php?ID=4725
)
Required for scenario "A-4E Droptanker Fuel Transfer" .
Wheel smoke and suspension flex on landing.
If you break the landing gear, Press Keypad 2 to repair.
If you land without gear down (you must be deaf!!), it's terminal! You need to start a new scenario.
Needs OrbiterSound 3.5Â  or higher installed.
Unzip into your Orbiter folder.(Make sure - Use Folder names is ticked when using winzip.)
**NOTE**
If you have Kev's original A4E Skyhawk Version2, some files will be overwritten, putting these back to original. If you have customised these, back up yours first!
ALSO:
The Droptanks version has flight parameters (max height and fuel capacities) closely aligned to the actual aircraft.
The non-droptank version enjoys the original settings created by Kev33.
Both versions have many warning, damage controls, gear
suspension and smoke enhancements to original craft.
**Made for Orbiter 100830 with OrbiterSound 3.5 **..
 
With grateful thanks to Kev33 (Kev Shanow) for original craft.
Enjoy,
JMW
06/09/11 - Update to description only.