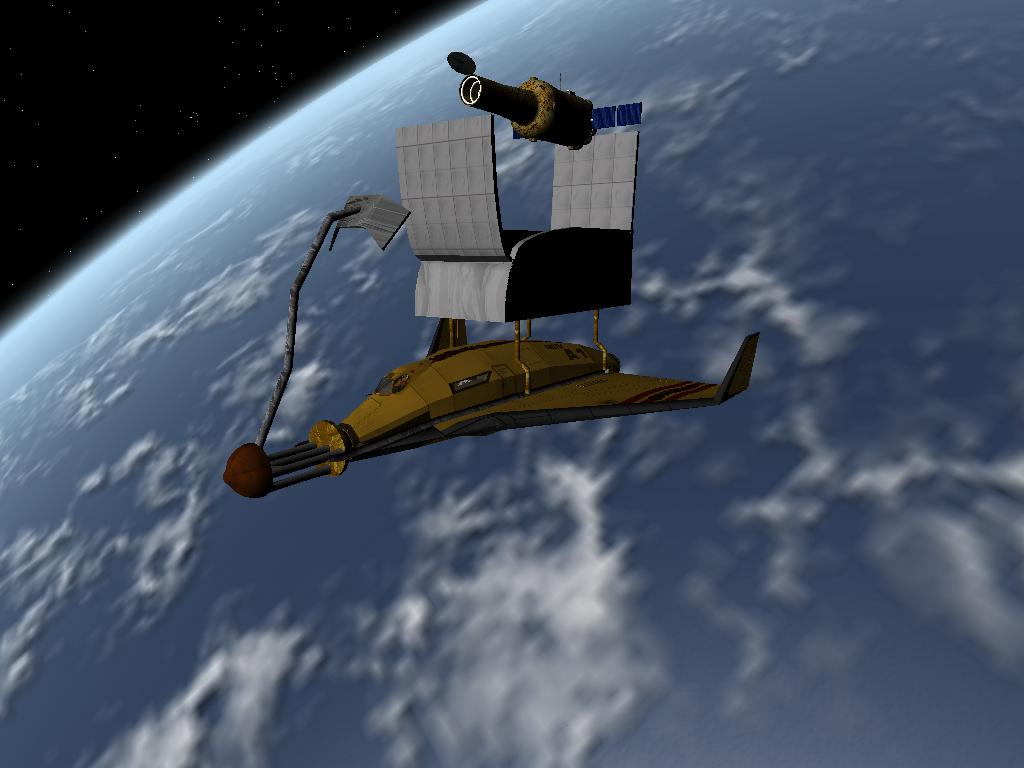 This addon allows you to fly payloads into space using Universal Cargo Deck in a more 'feasible' manner, i.e. - not just bolting payloads to the wings and hoping for the best. You can attach satellites, space station parts, and anything else you can think of to the cradle, and carry it into space, protected.
Installation:
Unzip to your Orbiter folder, retaining file names.
REQUIRED ADDONS:
-
Spacecraft3
: http://www.orbithangar.com/searchid.php?ID=3894
-
DG-IV
: http://orbiter.dansteph.com/index.php?disp=dgIV
-
Universal Cargo Deck
: http://www.orbithangar.com/searchid.php?ID=3262
-
ReleaseMeMFD
: http://www.snoopie.at/face/omp/download/ReleaseMeMFD.dll
-
(For scenario): SCOPESAT
: http://www.orbithangar.com/searchid.php?ID=4287
To use, you can open the included launch scenario, which contains a DG-IV with an empty cradle. You can add payloads by writing a new scenario, or editing this one.
It's a pretty heavy peripheral, so leave tolerance for movement and fuel. Once you are in orbit, you can open the cargo doors, and use ReleaseMeMFD (once the payload is selected as the acive craft) to free it.
It is probably best to discard it during re-entry, because it is NOT shielded from the heat, and it will probably cause problems for the centre of gravity of your spacecraft.
Animations:
G = open/close bay doors
K = raise/lower security arm
SHIFT+NUMPAD 1 = raise/lower cradle (for discarding only)
To discard the cradle, open the 'UCDCradle' craft in the scenario editor, and purge the cradle using the UCD payload menu.
Limitations:
ReleaseMeMFD doesn't allow for recapture of payloads - you will have to do it by manually changing the scenario parameters.
Be sure to close your nosecone before takeoff - there is an inactive docking port on the cradle; don't worry about that.
If there is enough demand, I will release a V2 with any (implementable) requested fixes.

Enjoy, George Kristiansen.