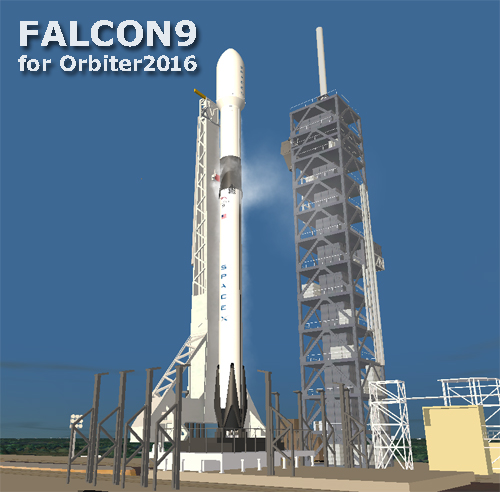 The SpaceX "Falcon 9 Block5" launcher, with recoverable 1st Stage and Fairings. Historical OG2, NROL76, GraceFO, GPS3 and Iridium satellite launch scenarios and test scenarios.
Features optional Ascent-to-Orbit autopilot and 1st Stage Flyback-EDL autopilot, etc. Optional Star48BV kick motor. Recoverable Fairings with RCS, parafoil, autopilot guidance. Payload "attachment" by editing scenario, or in-sim by payload name input.
Config file options: Expendable, No Fairing, Crew Dragon Adaptor, Cargo Dragon Adaptor, Custom Adaptor Mesh, Used Booster Skin, Fairing Recovery, up to 20 definable Attachment Points for multiple payloads.
Also includes LC39A, SLC40 and SLC4E launchpads, LZ landing pads. ASDS booster recovery vessel, FRV fairing recovery vessel. Elev_mod tiles for flat LZ areas at KSC and VAFB.
Installation and operation details in Doc/Falcon9 for Orbiter2016/ folder.
Recommended add-on:"LC39A SpaceX" modified LC39A launchpad
https://www.orbiter-forum.com/resources/lc39a-spacex.3092/
Orbiter2015 Hi-Res Texture Pack for West Coast USA EarthHi_11_05.zip
https://mirror.orbiter-radio.co.uk/orbiter/assets/packages/Earth/EarthHi_11_05.zip
Big Thanks to Dr.S, Donamy, Marg, francisdrake, Barry, Fred18, IronRain, Kyle and everyone else.
Software License

WTFPL
Supported Orbiter Version

2016