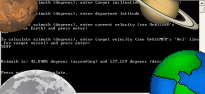 Space Calculators V0.6
 
This is simply a collection of a few calculators I often find useful when using Orbiter. They can be used while planning orbits, planning interplanetary travel, creating planets for certain purposes in your own star systems and planning orbital rendezvous. They are also often useful outside Orbiter.
 The addon currently contains:
 
- A Speed/Distance/Time calculator
- An Escape Velocity calculator
- An Azimuth calculator
 
I created these calculators to start in C++ and thought I may as well release them for others to use.
 
In the future I may well make a 'Space Calculator MFD' with them, and may add more to the library.
 
Sources are included for two of the three calculators.
 
Enjoy, George Kristiansen.