Joined

Jul 7, 2012
Messages

682
Reaction score

153
Points

43
Location
When I start the scenario "Nasa Warp Ship in Earth orbit" the ship not appears, and the distance of the camera is 0.00. All this happens when I use D3D9. When I use the regular client (DX7) ship appears and looks correctly. But I prefer to use D3D9 because it looks better and have a better FPS rate.
In short in D3D9 ship does not appear.
I attached a screenshot, Orbiter.log, OrbiterNG.cfg, and D3D9.cfg.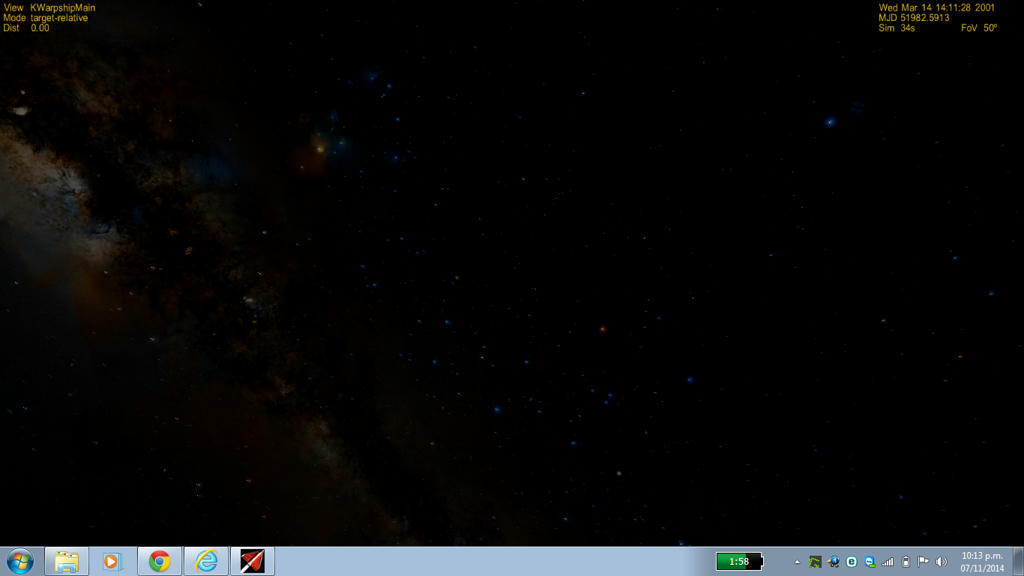 D3D9.cfg
Code:
FrameRate = 200
EnableLimiter = 0
PlanetPreloadMode = 0
PlanetTexLoadFreq = 20
Anisotrophy = 16
SceneAntialias = 0
SketchpadMode = 0
SketchpadFont = 3
PreLoadBaseVisuals = 0
EnableNormalMapping = 1
NearClipPlaneMode = 0
RwyLightAnimate = 1
RwyLightAngle = 120
RwyBrightness = 1.8
NightLightsAngle = 10
BumpMapAmplitude = 1
PlanetGlow = 1.1
EnvMapSize = 512
EnvMapMode = 2
EnvMapFaces = 3
ShadowMapMode = 1
ShadowMapSize = 1024
EnableGlass = 1
EnableMeshDbg = 1
StereoSeparation = 65
StereoConvergence = 0.2
Shaders = Level20
DebugLvl = 4
VCNearPlane = 0.1
LightSourcesInUse = 12
MemAllocLogic = 0
DisableDrvMgm = 0
NVPerfHUD = 0
RejectRTDC = 0
DebugLineFontSize = 18
GDIRTSDebug = 0
LoadTexturesInSystemMem = 0
ManagedTiles = 0
DisableVisualHelperReadout = 0
SolCfg = Sol
DebugLineFont = Fixed
Orbiter.log
Code:
**** Orbiter.log
Build Aug 30 2010 [v.100830]
Timer precision: 4.66498e-007 sec
Found 0 joystick(s)
Module AtlantisConfig.dll .... [Build 100830, API 100830]
Module AtmConfig.dll ......... [Build 100830, API 100830]
Module DGConfigurator.dll .... [Build 100830, API 100830]
Module EnergyConfigurator.dll  [Build ******, API 060425]
Module D3D9Client.dll ........ [Build 130712, API 100830]
Module ScnEditor.dll ......... [Build 100830, API 100830]
Module ExtMFD.dll ............ [Build 100830, API 100830]
Module Rcontrol.dll .......... [Build 100830, API 100830]
Module OrbiterSound.dll ...... [Build 121120, API 100830]
Module ScreenCapture.dll ..... [Build ******, API 060425]
Module RWarpMFD.dll .......... [Build ******, API 060425]
---------------------------------------------------------------
>>> WARNING: Obsolete API function used: oapiRegisterMFDMode
At least one active module is accessing an obsolete interface function.
Addons which rely on obsolete functions may not be compatible with
future versions of Orbiter.
---------------------------------------------------------------
Module Map3DMFD.dll .......... [Build 101102, API 100830]
Module HCLV_MFD.dll .......... [Build 130722, API 100830]
Module BombMFD.dll ........... [Build ******, API 060425]
Module CamShake.dll .......... [Build 100811, API 100606]
Module StargatesMFD.dll ...... [Build 101014, API 100830]
Module Stargates.dll ......... [Build 101014, API 100830]
OrbiterNG.log
Code:
; === ORBITER Master Configuration File ===
EchoAllParams = FALSE
LPadRect = 375 52 925 625

; === Logical parameters ===
FlightModel = 0
UnlimitedFuel = TRUE
RefuelOnPad = FALSE
InstrumentUpdateInterval = 0.01

; === Visual parameters ===
EnableSpecularRipples = TRUE
EnableLocalLights = TRUE
CSphereBgImage = Visible (DSS2/Wikisky)
CSphereBgPath = csphere\dds2

; === Visual helper parameters ===
Planetarium = 6126

; === Camera parameters ===
CameraPanspeed = 35.4813

; === Device settings ===
DeviceIndex = 0
ModeIndex = 522
Fullscreen = TRUE
NoVSync = TRUE
WindowWidth = 400
WindowHeight = 300

; === Active plugin list ===
ACTIVE_MODULES
  D3D9Client
  ScnEditor
  ExtMFD
  Rcontrol
  OrbiterSound
  ScreenCapture
  RWarpMFD
  Map3DMFD
  HCLV_MFD
  BombMFD
  CamShake
  StargatesMFD
  Stargates
END_MODULES