Joined

Jun 22, 2011
Messages

696
Reaction score

257
Points

78
Location
Happy Tuesday!
Here is the release of Project Mercury for Orbiter 2016!
Get your copy here, version 3.0:
https://www.orbithangar.com/showAddon.php?id=aa76f625-781d-4194-b153-16b81c9ae3e0
.
When you click the download button, you also get the option to download a Orbiter 2010 version.
This addon simulates the first manned space program of NASA, Project Mercury, which launched six astronauts into space between 1961 and 1963.
The addon mainly uses the meshes from the legacy Project Mercury addon by Rob Conley/'estar', but with completely new code. With a new basic 2D cockpit, and with improved flight models, autopilots, and of course the benefit of the upgrade in Orbiter visuals made since 2005, when the original addon was last updated.
All original meshes by the original addon team, highres textures and new meshes by '4th rock', and high poly launch complexes 5 and 14 + carrier by 'kev shanow' are included with their permissions. A huge thank you to them!
Therefore, this addon has no requirements to run (and will generally not be compatible with any old textures, meshes, configurations, scenarios, etc.).
Addon by me ('asbjos') and Ricardo Nunes ('4th rock').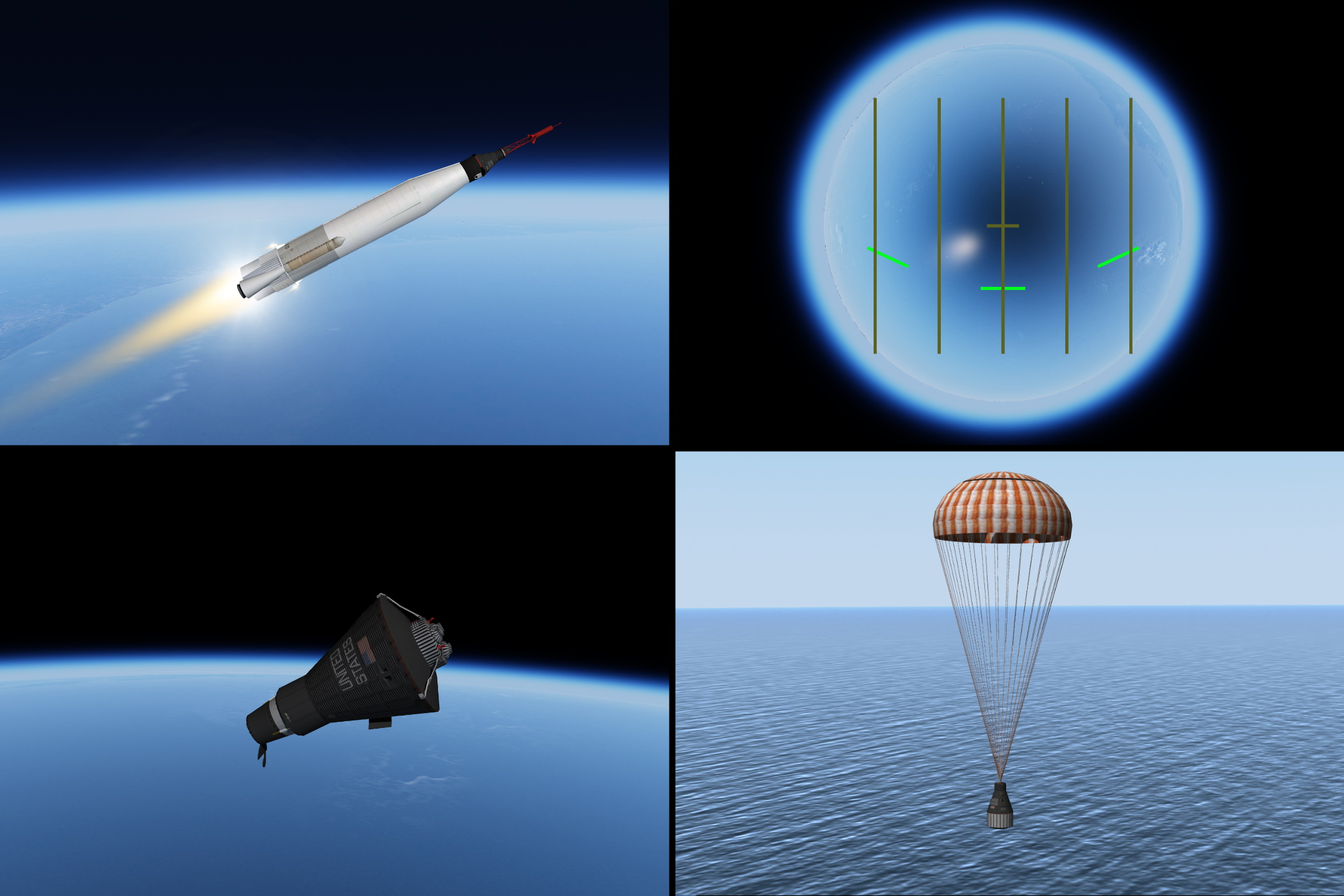 Update log:
March 10, 2020: initial release. (1.0)
March 12, 2020: small update. Forgot to add Launch Complex textures, and a bug with meshes at abort. (1.1)
March 15, 2020: includes all previous patches, more bugfixes, Launch Complexes improved, and surface tiles for both LC5 and LC14. (1.2)
March 17, 2020: fixes bug with touchdown. No update for Orbiter2010 version, as it has touchdown points defined differently, and thus no bug in 1.2 version. (1.2.1)
March 30, 2020: Little Joe, boilerplates, periscope features, +++++. (1.3)
April 11, 2020: Mercury-Scout, skinning feature, bug fixes. (1.4)
May 14, 2020: 2D cockpit panel, maneuvering concept adapter for Atlas stage, bug fixes. (2.0)
June 8, 2020: slightly improved 2D panel, alternate history launchers, Beach Abort scenario, bug fixes. (2.1)
June 10, 2020: fix Atlas mesh not disappearing after capsule separation. (2.1.1)
May 2, 2021: complete rework and accurate recreation of attitude control system (ASCS, RSCS, etc.). Added sound for various callouts and information. (3.0)
Known bugs:
Parachute and landing bag meshes disappear after going into periscope view (F8). Press Ctrl+R to reload when this happens.
Periscope view and panel don't work in Orbiter 2010. It is disabled in O2010 for now.
Please use this thread for help, bugs, and general feedback!
Last edited: