Joined

Jul 7, 2012
Messages

798
Reaction score

299
Points

63
Location
What a wonder, just look at those rolls of magnetic tape, they are impressive when they move, it seems that this thing was thinking, it seems magic. I love old computers even though I only know them on the Internet or encyclopedias, I never had the opportunity to see one in real life, but I see them as extremely engaging, or intriguing. That moving magnetic tape... today's computers could bring that, even if it's a decoration, I do not know, they give me an image of activity (or being processing something) that the current computers can not give me (except a little bit the Linux console and the few commands that I use).
The first time I saw magnetic tape running, it was in this video. Is magic.
Look at the white HP device.
The first time I saw an old computer, it was in the documentary about Pixar where UNIVAC was shown for a few seconds.
Look at these old commercial, to this day I find it impressive.
From the optimist voice of the speaker, the dimensions of the computer, and the graphics, seem to show a past (in this aspect) amazing. And of course the name: UNIVAC, sounds like something universal, a powerful computer.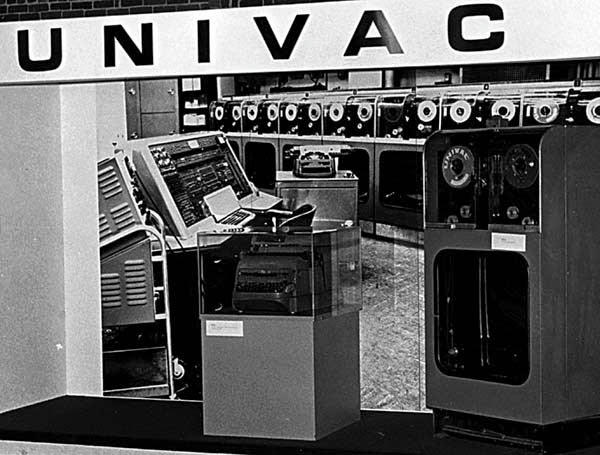 Look at the typography, it looks like science fiction.